METAL BLOG, Vol. 10 - by Steff Chirazi
Sometimes I miss childhood.
I miss the wonderful simplicity I enjoyed for an (albeit too brief) few years between 12 and 15, when it was just me, my mullet, my tight jeans and Motörhead t-shirts, my Boots Audio stereo with shoebox speakers and a stylus that was a dust mop but which had a volume fader control that said '10' but went to 11.
I would go down to the record stall at Kingston market, and snap up thick slabs of vinyl scripted with grooves that made my world shake. I even spent 5 minutes in a 'band' with 'friends' as the 'front man' thinking I could be Ozzy; didn't we all? There was such enormous simplicity back then, and though I cannot claim a tough life, there are absolutely things which simply make those years untouchable. It is probably why the music we listened to back then is so resonant forever; an instant 'hit' back to days spent at the Hammersmith Odeon, an instant flashback to sneaking cider and Special Brew with friends while seeing who could headbang the longest.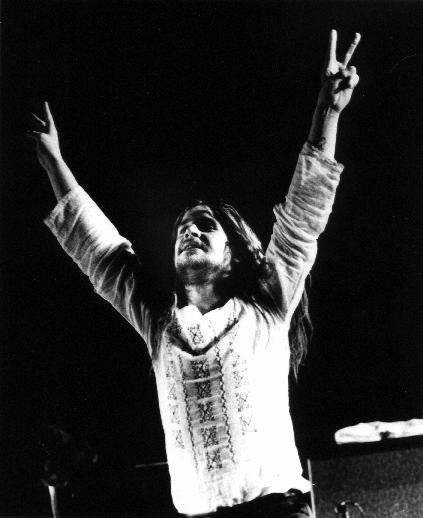 In San Jose, California a couple of weeks ago, I experienced one of those flashbacks.
Black Sabbath.
The End.
Ozzy, Tony, Geezer and Ozzy's drummer Tommy Clufetos (Rob Zombie, Ozzy's band and Alice Cooper among others).
I didn't know what to expect. It had been some years since I'd seen any of them live in any incarnation, and honestly, my love for them and their music was so deep I was a little afraid.
You want to see your childhood idols deliver.
I have many, many great memories with Ozzy, wonderful history with the whole camp, journeys, adventures, quiet moments too but so many. It had been some years since those times, and I was excited yet also (if truth be told) perhaps slightly nervous about seeing them.
What to expect.
What would it be.
What could it be?
…I remember when it hit me that this was a special night for me (and everyone in the SAP Center to be fair, but I'll just address myself with certainty). The opening part of "Into The Void" came in laden with that delicious groove straight in the pocket…and then Iommi hit the main riff. My spine shivered. This was childhood, this was me and Martin White, Marc Cooper, Adam Landau, Jason Cox, all with our denims and our smelly jeans, our mullets and our patches, thrusting our heads around in that swirling groove of riff, air guitars in hand, throwing double peace signs like Oz does, and I just lost it. I wished for my long hair back because I wanted to whip my own face, and I roared and scowled and lost myself in that groove just like I used to, a moment of such fortification I cannot be sure these words are even getting you fucking CLOSE to how incredible it felt.
They were magnificent.
Of course it would've been great to see Bill Ward, but he wasn't there and I don't really know why and how could any of us really know why unless we knew. And we don't. So.
They were magnificent, all four of them. Tempos of steel, adhered to militarily, and the groove pockets were allowed to bounce and flex and stretch in the ways that always made Black Sabbath so special.
Ozzy sounded really really strong, hitting almost everything with consummate ease, and I have to say he looks EXACTLY like he did in the "No More Tears" days, if anything a little fitter. He could command a stage standing still, but that isn't Ozzy, he likes to move, he likes to implore a crowd, he likes to be in it, and so he was. Geezer Butler's bass is like a giant soul- warming machine, infusing our inner-spirits with wave after wave of something beyond simple sound, more like an organic aural blanket of (at once) fortitude and flexibility, a command for your limbs to go loose and swing, a thunderous foundation which also has some 'give' in it when the earthquakes hit. Tony Iommi? Jesus Christ, he is the Lord of the riff and he seems determined to pin that point home once and for all, because I have never, ever seen him play as well. He delivered the brightest of lights in the darkest of churches, an alchemist of epic proportions, helping to create the magical incantations which drew the sold-out arena into one, small communal room of worship. Of course it would've been great if Bill Ward had been there too, but he wasn't for whatever reason, and I have to say Clufetos did an excellent job hanging in that groovy Sabs hammock of swing and thump.
My only gripe was at the expense of the audience, who despite being wonderfully loud, all seemed to forget that Ozzy = peace signs NOT the heavy metal horns. That was Ronnie. So remember kids, if you're at a Sabs show this year and Ozzy asks to see your hands in the air, flash those peace signs OK (don't believe me, look at the front of Volume 4 FFS!). If this really is The End, the theory that life brings you around in a full circle holds pretty true because Ozzy, Geezer and Tony sounded like kids again!
One more Sabs-related story I got excited about, was seeing that Geezer has lobbied New York State's legislature to ban the declawing of cats! Already illegal in US cities such as San Francisco and LA, Geezer said, "Many know me as one of the founding members of BLACK SABBATH, but fewer likely know that I am what you might call a 'crazy cat person.
' "My wife and I have many rescued cats and we have never dreamed of putting them through an elective, convenience surgery such as declawing.
"Can you imagine having your fingers chopped off at the last bone? That is what the equivalent is for cats who are declawed. It is dreadfully inhumane! "A surge of veterinarians throughout New York support legislation to put declawing in the trash bin of history. I urge lawmakers to remain steadfast in those characteristics I admire most about New Yorkers and support the bill to ban the declawing of cats." I can tell you that Geezer is a huge animal rights person, loves his dogs too and is not one to jump on a cause-celeb bandwagon (when did you last see him saying anything of this sort?). So this one is real to him, and it should be real to you too. Well-done Geezer!
…I got excited by a (currently) small band based out of LA called Spirit In The Room because they are pretty damn good. They are, in fact, an epiphany… Transcendent in every way, an aura and an attitude, some absolutely incredible and unique material, a sense of tension that suggests exorcisms in the deep south and an overall presence that won't let you go, that shakes you and throws you around like a rag doll in a hurricane...I suppose you want some references? Well they are, as I said, genuinely unique, but you'll find elements of Nick Cave, Hawkwind, Spiritualized, NiN and deep dark delta blues; those are just a few of the flavours that make this stew…yeah, this is what I wrote on my personal Facebook page a mere hour after seeing them, and reading back over it I stand by every word. Believe me, live, their music roars at you like the sermon you've never before known that you've always wanted. Here's their music page, their Facebook page and go check 'em out at iTunes.
https://spiritintheroom.bandcamp.com
Nice to see Dave Grohl speaking up for Lemm at the Grammys a couple of weeks back in LA, furthermore nice to see "Ace Of Spades" given a run out by The Hollywood Vampires aka Alice Cooper, Matt Sorum, Johnny Depp and Joe Perry. I would say in this case it was most definitely the thought that counted, and can I also ask, what were the Grammys thinking when they forgot to mention the passing of Phil 'Philthy Animal' Taylor in their 'deceased round-up'? Poor form, and proof positive that had it not been for Grohl absolutely insisting they honour Lemm if the Grammys wanted Grohl to do anything, we would never have seen the man honoured, as he deserved to be. Hats off to all concerned.
Sometimes I suspect people reading stuff like this roll their eyes and think it's syrup for syrup's sake, but trust me and trust me forever, I don't 'do' syrup and I couldn't be fucked to lay on some sweetness just to do it. If it hits me like this I'm going to say it, and I don't give a fuck if it seems cheesy or weird to people. There's too much 'smug blogging' going on, you know, 'writers' trying to look 'coöl' and all I can say is, I don't give a damn if I look as cool as an acid-washed spike-mulleted fireball of cheesy metaldom , what you read is what you get and you'll at least know where my heart is at. And if this sometimes comes across as the alliterative gush of a 15 year old rookie writer, then fan-fucking-tastic. I've won. I'm still where I want to be. A free person at heart. Be sure to live YOUR life on those terms too, do it YOUR way and screw the judgment of others because it really-doesn't-matter in the end of everything. I learnt that from Lemm, and he was right.