News & Stories
SOEN ANNOUNCE RELEASE OF ATLANTIS
ATLANTIS - AN ALTERNATE UTOPIA -
NEW EUROPEAN AND NORTH AMERICA TOUR DATES ANNOUNCED
ALCATRAZZ UNLEASH NEW VIDEO FOR 'HOUSE OF LIES'
EUROPEAN/UK DATES APPROACHING!
DIAMOND HEAD TO RELEASE LIGHTNING TO THE NATIONS (THE WHITE ALBUM) [REMASTERED 2021]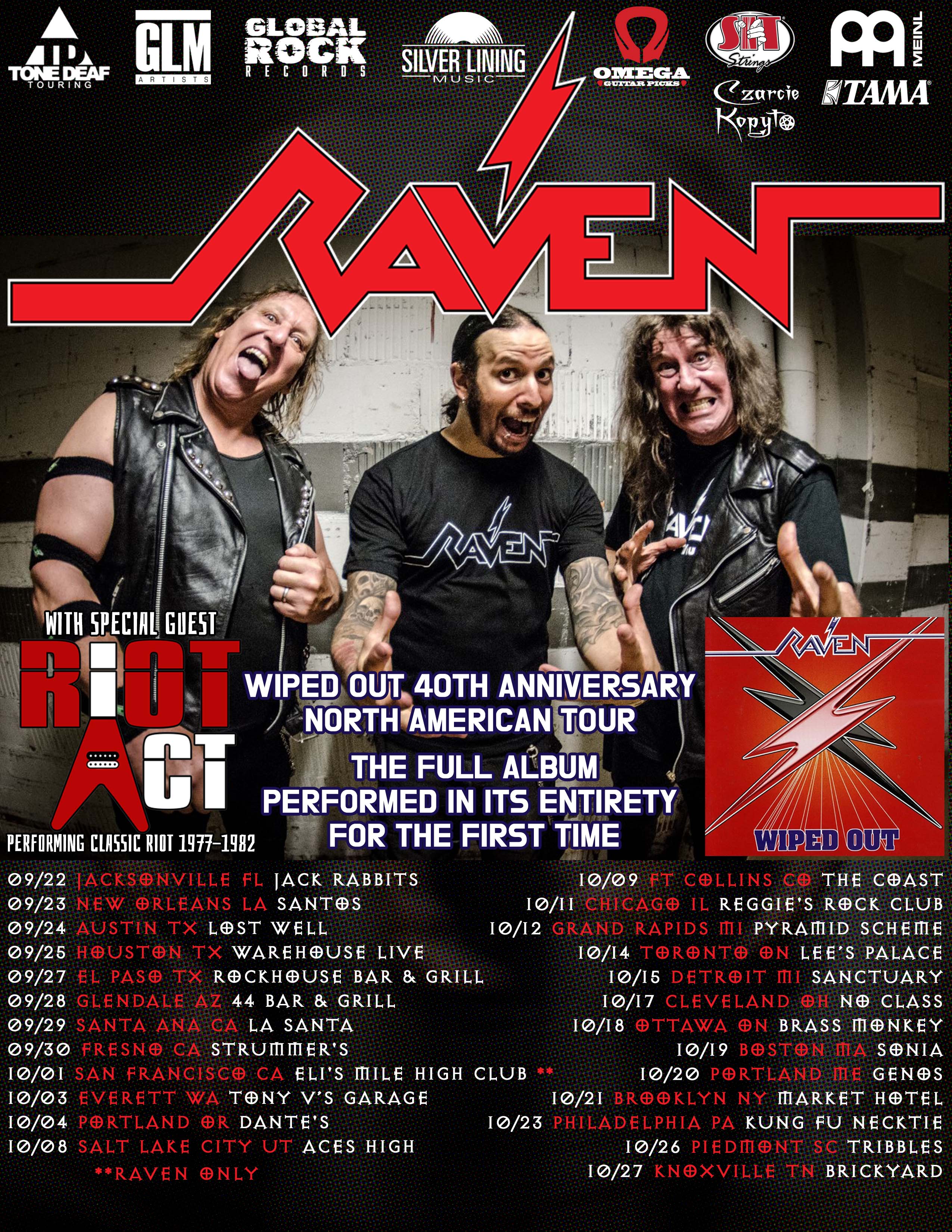 RAVEN ANNOUNCE 40TH WIPED OUT ALBUM ANNIVERSARY US TOUR
NEW ALBUM SET FOR RELEASE 2023
RAVEN are that rare thing in music, true originals – cut these guys with a razor and they will BLEED true heavy metal - a more intense live band does not exist on this planet!
RAVEN released three of the most influential metal albums of the NWOBHM era (New Wave of British Heavy Metal) inspiring every band of that time and beyond. Without RAVEN you just would not have thrash/speed metal… after all, the band did give Metallica and Anthrax their first tours!
Next year RAVEN are set to hit the road once more where they will be celebrating the 40th anniversary of their iconic record 'Wiped Out' and treating their fans by playing the album in full during each show.
Founder member John Gallagher comments, "really looking forward to playing one of my personal fave Raven albums "Wiped Out" in its entirety on this upcoming U.S tour... there's a few songs on the album we never got to ever play live so that's gonna be a blast!!!!"

Joining RAVEN on their US tour are Riot Act, who will perform Riot repertoire from their classic era (1977-1982). In a cynical musical landscape these days, where bands are not "Gangs" but faceless corporations, RAVEN are a band that are REAL not FAKE – and proud of it! The 'WIPED OUT' 40th Anniversary Tour will kick off on the 22nd of September 2022 in Jacksonville, Florida; more dates are to be announced soon.
2022 'WIPED OUT' - 40th Anniversary Shows (US):
09/22 Jacksonville FL Jack Rabbits
09/23 New Orleans LA Santos
09/24 Austin TX Lost Well
09/25 Houston TX Warehouse Live
09/27 El Paso TX Rockhouse Bar & Grill
09/28 Glendale AZ 44 Sports Grill
09/29 Santa Ana CA La Santa
09/30 Fresno CA Strummer's
10/01 San Francisco CA Eli's Mile High Club
10/03 Everett WA Tony V's Garage
10/04 Portland OR Dante's
10/08 Salt Lake City UT Aces High
10/09 Ft Collins CO The Coast
10/11 Chicago IL Reggie's Rock Club
10/12 Grand Rapids MI Pyramid Scheme
10/14 Toronto ON Lee's Palace
10/15 Detroit MI Sanctuary
10/17 Cleveland OH No Class
10/18 Ottawa ON Brass Monkey
10/19 Boston MA Sonia
10/20 Portland ME Geno's
10/21 Brooklyn NY Market Hotel
10/23 Philadelphia PA Kung Fu Necktie
10/26 Piedmont SC Tribble's
10/27 Knoxville TN Brickyard
Tickets on sale now at ravenlunatics.com https://ravenlunatics.com/
Band Line-Up:
JOHN GALLAGHER: Lead Vocals, Bass, 12 String Bass
MARK GALLAGHER: Guitar, Vocals
MIKE HELLER: Drums
Follow RAVEN:
More Articles ...